First of all, thank you for the phone messages! Mom, Jen, Dad...I got your messages. I don´t think it really works for me to message you back, but I appreciate the notes.
Dad- Got the messages, but I can´t use the ´net everyday so it takes a while for me to let you know I got them...sorry.
Jen- I have an address. Mom and dad should have it. Email me if they don´t.
Mom- The time here is currently 1 hour ahead of Chicago time. I´m not sure if Bolivians practice daylight savings. Anytime you want to know the time just search google for ¨current time in bolivia.¨ :) Yes, I sleep under netting and even have a travel net. The biggest threat here is probably Chagas, which in some respects is better and in some worse than Dengue. The food itself is good, but I´m not used to eating mostly rice and potatoes. We don´t have a whole lot of meat or eggs, and even fewer vegetables. The vegetables are available, but I get the feeling that people just don´t eat them. My family usually has bread and coffee for breakfast, soup for lunch, and rice, potatoes, and a bit of meat for dinner. There is also a lot of sugar in anything sweet. I´m not sure about the names thing. I constantly push my family to let me help out a little more, so that´s getting better. The grandma works like crazy and I´m not used to people taking care of me so much. I have a feeling there might be an animal in my future- sorry to disappoint.
So, onto the update. All weekend long there is this festival for the Virgin of Guadalupe. The community invited us to dance in the festival so we´ve been learning the dance all week and (literally) dancing all weekend. It´s been really cool to see all the different dances and to get to participate. Some dances we saw are the Tinku (a battle-type dance), Morenada (a dance from la paz that apparantly mocks the whites who oppressed blacks in the altiplano...or something), and our dance, the Llamerada (the llama-herding dance). I know there was at least one more, but I don´t know what it was.
So, Friday night we danced twice and then my family stayed to watch the tinku. Saturday we danced twice (mind you this is in between other dances) in the morning/afternoon. Then, an entire band accompanied us (dancing) down the (unpaved) streets to the house of a woman who invited us all to lunch, (fried chicken, rice, potatoes, and beer) live music, and some less formal dancing. Then we danced back down the streets to the court where we danced two more times before going home. Our costumes are great, too. The women have like a poodle skirt with llamas instead of a poodle, a blouse, a decorative hat, some rope-like thing to twirl around, and a llama doll to hold. The men have the same hat, a white shirt and white pants. Without further ado, I´ve got some pictures for you...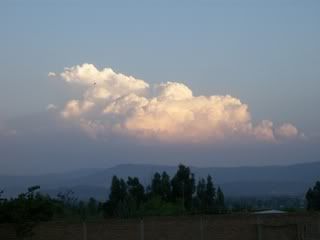 The town I live in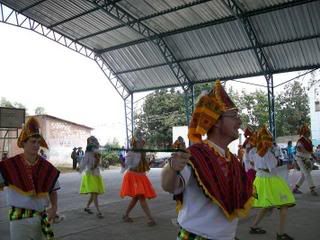 Llamerada Part 1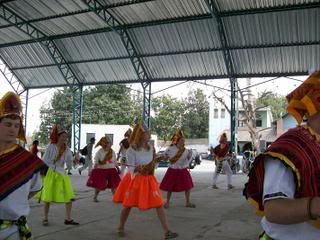 More Llamerada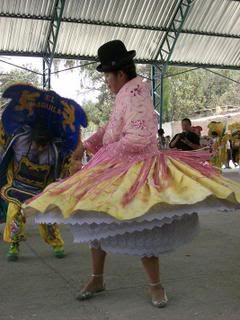 Morenada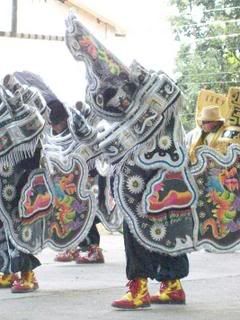 ´
Morenada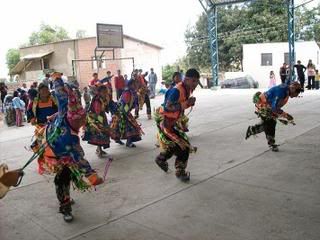 Can´t figure out what this one was...but it was my favorite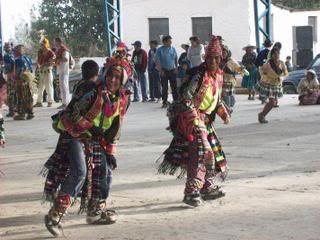 Mystery dance cont´d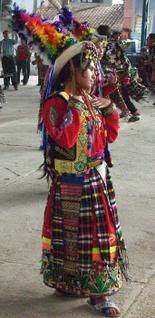 I guess that´s about it for now. Please know that I am going out of my way to update this as much as possible. I love hearing you guys, so thanks for the comments/emails. :)
Sarita